True life: I have always been judged for my toothpaste selections and I'm 100% with that. Since elementary school, I've used Tom's of Maine natural toothpaste and whenever I went to the dentist, they would praise my clean, cavity-free teeth (thanks, Mom). Confession: In my early twenties, I didn't go the dentist for six years and I left with a perfect report because FLOSSING AND TOM'S TOOTHPASTE, you guys. If I use Crest or Colgate, my mouth just doesn't feel as clean (plus, um, there are chemicals and sometimes PLASTIC in that shit; neon blue and sparkly flecks are not natural, you guys). And as we learned with the whole oil pulling phenomenon, a clean mouth is crucial for overall health (also, making out).
But about a year ago, during a chat with a master esthetician and health guru in Atlanta (Lidia of Skin IQ), I learned about propolis toothpaste and purchased my first tube. Propolis is "a resinous mixture that honey bees collect from tree buds, sap flows, or other botanical sources." It has been used in medicines for thousands of years and has strong antibacterial and antiviral properties. When used in oral hygiene, it can ease sore gums, prevent gingivitis, and fight plaque. Now, the toothpaste I use is a brown gel (weird, yes) and there are no foaming agents (read: chemicals) or fluoride, so it's not the brushing experience you're used to. It has a slightly spicy/cinnamon taste, and this may sound weird, but I feel like it exfoliates my teeth–the feel so smooth afterward. When I first started using this, I usually only did it at night and used my Tom's in the morning. But now I'm using it for nearly every brushing and my mouth feels so clean, my teeth are whiter, and I haven't gotten sick all year (JUST SAYIN').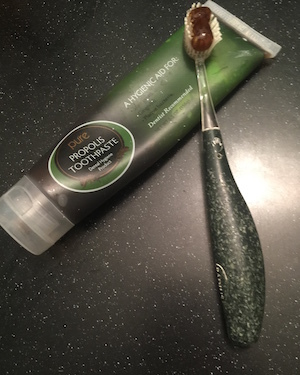 But if the brown gel creeps you out, other brands are starting to pick up on this trend, including Tom's (it does foam), which you can find in grocery stores. Crest, are you up next!? Probably not. You keep selling your foamy, electric blue bullshit.
ANYWAY, I highly recommend giving this dental game changer a try, and mark my words–it will be the next big thing in natural beauty remedies.
LYLAS,
Ashley